If you are fanatic about fresh food, then you need to visit Fresh Fanatic. This Brooklyn based, local store is more than a grocery store in that they offer a wide variety of products and have an inviting cafe with all house made salads, soups, juices and baked goods. Fresh Fanatic is celebrating their 5 year anniversary serving the neighborhoods of Clinton Hill and Fort Greene. I was recently asked to visit their store to do a tasting of their vegan products and talk about all things food and veggie. I was extremely impressed with Fresh Fanatic, from their local and neighborhood vibe to the wide variety of produce, beauty products, homemade baked goods, salads, soups, dips and cafe! Yes, all that is going on at Fresh Fanatic, and you need to get involved.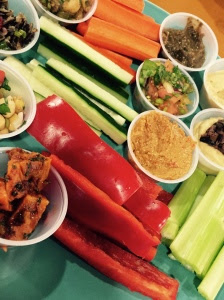 From the moment you walk into the store, the staff are friendly and the layout is easy to navigate. You can pick up some items for home all while sipping a coffee, cold pressed juice and enjoy a house made goodie in their chill cafe. I sat with one of the stores chef's Michelle and co owner Andrew and we had a lovely conversation about the ingredients they use and products people love. Andrew and his brother David opened the store together and have grown a foodie and shopper's dream. Whether you love food shopping or it is just a chore, Fresh Fanatic's clean and fresh vibe makes it more than something to cross off your to do list.  I started the tasting with some amazing dips, moved to salads, and next  up- soup! Let's start at the beginning.
Dips
Hummus is not hummus without olives on top! A mixture of kalamata and black olives balances the salt factor and results with one word: yum. Chef Michelle also makes a plain hummus which packs flavors that are anything but plain. In the mood for a creamy dip without the chickpeas? Try the roasted red pepper and white bean dip. This was great by itself and would also make a nice addition to a veggie burger or stuffed mushroom. Think all salsas are created equal? Think again! This one is chunky with fresh flavors that make you think spring will actually come! Lastly, and the first one I went to buy after the tasting, is the roasted eggplant with little oil and pure amazingness. I have tried to roast eggplant for dips BUT never quite got it right, and now I never have to again! Enter: Fresh Fanatic,  and their dips to go display!
Below are the ones I bought to take home:)
Olive tapanade, roasted red pepper and of course the eggplant dip!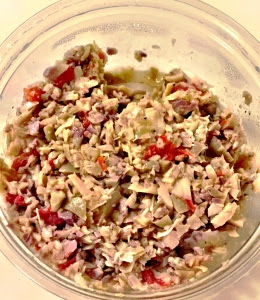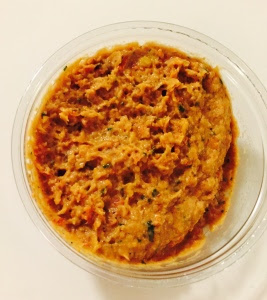 Salads
Move over lettuce, you have some competition. The roasted sweet potatoes were sweet and sticky with an added spice that leaves your mouth going "whoa!" The chickpea salad is a nice addition to any salad bar and here the balance with sweet and herbs, like cilantro, were super tasty and satisfying. The wild rice and cranberries  with Tamari sauce was delicious. The earthiness of the rice paired with the sour cranberries and salty Tamari makes for the perfect marriage. Next up- a creamy and hearty bean salad, perfect for a winter afternoon and a great answer to where vegans get their protein!
Soups
It was a snowy afternoon in Brooklyn and these soups were the perfect 'warm me up!' Did someone say Carrot and Ginger? The fresh ginger that chef Michelle uses is pressed in their on-site juicer and wow, that flavor pops! Then there was the tomato soup with veggies and ooo were there veggies! They were perfectly seasoned and cut into nice, chunky pieces. We ended the soup course, so fancy!, with a vegan chili. You won't miss the meat with this recipe! The spice was perfect and the balance of the tomatoes will definitely be on my next Super Bowl menu!
Dessert
Did someone say vegan, gluten free peanut butter blondie? This baked treat is made by Michael Allen and his combination of ingredients for this sweet treat made for a moreish, soft and flavorful brownie.
There is more to Fresh Fanatic than their cafe and housemade dishes. You can also get all of your groceries in a one stop shop. They have many naturally vegan dips and products throughout the store, but…wait for it…also have a dedicated vegan section for kimchi that you don't have to scan for fish and dips without hidden milk and all your go to products like Field Roast, Soulkofa, Daiya, Silk, Go Veggie, tofu galore and more!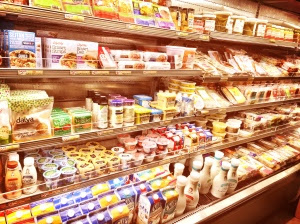 I was a happy camper filling up my cart at Fresh Fanatic. It is a great place for food lovers to find all their needs and a fab place to meet with friends for a coffee and chat. I have a new local grocery store and now you do too! Thank you to the staff at Fresh Fanatic for making my mid week visit a blast. I can't wait to come back.